Congratulations on winning the Nuclear Science for Development Award!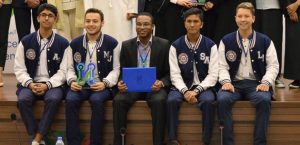 The Nuclear Science for Development student competition was launched by the Permanent Mission of the UAE to the International Atomic Energy Agency headquartered in Vienna, Austria. This is the first of its kind in the region, and it was done in collaboration with the UAE Ministry of Education, the Federal Authority for Nuclear Regulation (FANR) and Emirates Nuclear Energy Corporation (ENEC).
The competition targeted high school students, ages 14 to 18, and aimed at challenged them to find peaceful application of nuclear technology in the society. Four of our students, Syabil, Mahdi, Sahil, and Louis, with the guidance of Mr. Momah, participated in this competition under the category: Nuclear Science and Technology to Protect the Environment and Water Resources. The two other competition categories included nuclear science and technology application to improve human health, and to generate clean energy. All participants who made it to the semi-finals stage got a unique opportunity to visit the Barakah Nuclear Power Plant in Abu Dhabi.
On October 31st, our students, with hard-work and discipline came out as winners in their category, while having fun throughout this competition. In Mr. Momah's own words: "They were the stars of their competition category (and overall in my opinion) at the NSFD competition. They're proud of themselves, they've made me and hopefully their school community proud." According to one of our participating students, Sahil Shah, "Participating and winning the nuclear science competition organized by the IAEA and the UAE government was a major event. The success shows me that though I may be fearful or anxious about certain skills, following through and continuing to have a motivated and self improving attitude are the key to endurance and perseverance."
The students' proposal called for the establishment of a citizen science program called "The Global Research and Environmental Education through Nuclear Technology" or GREENTech. GREENTech will be a government research arm and operate in collaboration with other public scientific organizations worldwide. GREENTech provides education regarding nuclear physical research methods to students, who in turn provide GREENTech with field data and environmental samples that can be analyzed through these nuclear methods. It is hoped that this project will directly benefit the environment and protect our mineral, atmospheric and water resources for future generations.
As winners, they "will travel to attend the International Ministerial Conference on Nuclear Science and Applications, which will be held at IAEA's headquarters in Vienna, Austria from 28 to 30 November 2018. They will have a number of field visits including to the IAEA laboratories in Seibersdorf; learn about nuclear science and applications in other countries, and listen to policy-makers as well as engaging with various youth from across the globe." (source)
---