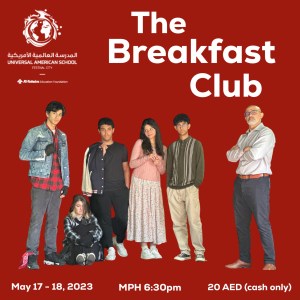 Our Secondary students and Drama department are excited to invite you to the performance of the play, The Breakfast Club.
This time, detention is a good thing! Five teens. All different backgrounds. Stuck together for one Saturday detention.
It's the 1980s classic: The Breakfast Club adapted for the stage. A timeless story of teens breaking stereotypes and forging friendships. Don't miss this powerful, relatable, and heartwarming performance!
When: May 17 & 18
Time: 6:30pm
Cost: AED 20 (cash only)
Where: MPH, Universal American School
Tickets available at the door. Cash ONLY. See you there!