Meet our Senior Leadership Team
Our leadership team is composed of a group of highly experienced individuals whose main role is to develop a comprehensive and cohesive academic plan for our students and to provide them with opportunities to identify and achieve a personal best in everything they do.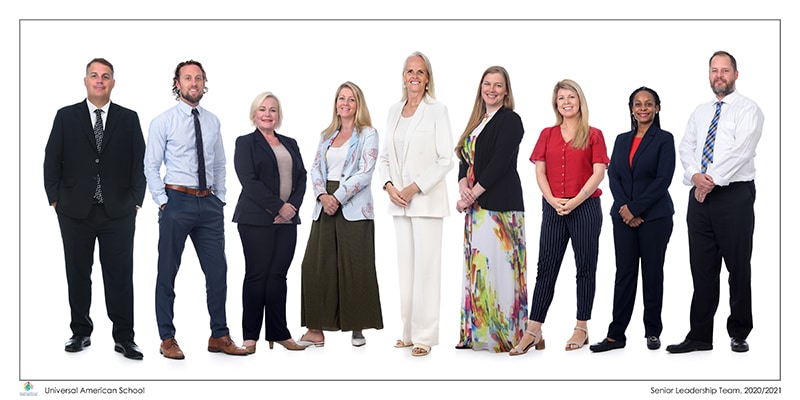 Kerry Timmerman, David Jones, Dr. Stephanie Chattman, Tracey Cummins, Janecke Aarnaes, Sabrina Sambola, Rianne Fox, Briana Hall and Kurtis Trottier.
School Director – Janecke Aarnaes
Janecke Aarnaes, mother of two American-Norwegian boys (20 and 17) and step-mother of two Sudanese-Norwegian girls (15 and 9), is a global citizen and an international educator with 28 years of experience in teaching and leadership.
Having started as a foreign language teacher (French and English), Ms. Aarnaes has worked within the private educational sector, within both national and international schools in Norway, Belgium and the UAE. She came to Dubai in 2017 to set up and be the Founding Head of Dwight School DubaI, an IB World School with a strong American legacy. Prior to that she held the position as Head of School at ​Oslo International School​ (OIS) in Norway, also a cutting-edge private K-12 co-ed IB World School.
Janecke Aarnaes took up her first director role at the age of 29, and was then the youngest school leader in her country. Including her first seven years as Head of School at Sonans Oslo, she has held a strategic project role as Business Development Manager at the Scandinavian School of Brussels (SSB), where she also served on the Board of Governors. As someone who embraces opportunities that expand her horizon she stepped out of the field of education for a few years and worked at the EFTA Surveillance Authority in Belgium, a judicial inter-governmental institution tasked with monitoring implementation of EU legislation. Her experience furthermore includes stints with private educational start-ups, such as the Sonans Privatgymnas, a Norwegian high school for adults, where she was the Founding Director, and for performing a demerger at SSB that resulted in the founding of the Norwegian School of Brussels (DNSB).
Ms Aarnaes is a futurist and serves as a member of the Dubai Future Council on Education, where she takes part in forging paths for the UAE's 2071 strategic vision in areas of learning and knowledge economy. She is also the Vice-Chair of ECIS (the Educational Collaborative for International Schools) and an active participant in the IB World Community, a trained CIS team visitor and in process of becoming a NEASC accreditation visitor.
She holds a post-graduate diploma in Leading Innovation and Change from York St. John's University in the United Kingdom and a bachelor's degree in Sociology and Anthropology, Political Geography and French from the University of Oslo in Norway. Furthermore, she has studied international relations in Paris and loves languages. She is fluent in English, French and Norwegian and can additionally communicate in Swedish, Danish, Spanish, Italian and German.
She is passionate about disrupting traditional educational mindsets, contextualizing learning and rendering education purposeful for the individual student. She is thrilled to be joining the rich learning community at UAS.
Deputy Director and Elementary School Principal – Stephanie Chattman
For over 23 years Dr. Stephanie L. Chattman has dedicated her entire professional career serving kids, families, and communities. She has made it her personal mission to be a professional educator and to promote personal empowerment, social development, and perpetual progress through the power of education. She believes that education is a continuous journey, that every experience, endeavor, and obstacle that one encounters is an opportunity to enrich one's understanding of self and to gain additional knowledge. Education isn't just her profession, it's her passion, her mission, and her mechanism to help make the world a better place.
Her career began in her native state of Alabama where she served as a social worker assisting families in ways that improved their lives through training, housing, and financial assistance. The driving force behind every decision that she made was the question, "what is best for the children." She knew that one of the best things she could do for children was to ensure that they received a quality education. That idea led her to pursue a career as an educator. Although she understood her dedication to transforming lives required her to be more than a teacher but rather she became proficient at the art of education and a professional educator.
After obtaining a teaching position in Georgia, she and her family relocated there. Dr. Chattman began her teaching career as a Special Education teacher that focused on inclusive practices. This is an ideal that she continues throughout her practice now. While she taught in an elementary school in Dekalb County School District, she continued to pursue her own professional growth. She took every opportunity to acquire additional certifications, professional development, and valuable experience all while eventually obtaining her masters, specialist, and doctoral degrees in Educational Leadership. Her drive, her passion, and her personal pursuit of excellence was quickly recognized by her peers who voted her Teacher of the Year after only briefly becoming a teacher. Her commitment to serving students, working collaboratively with coworkers, and dedication to the community made her a valuable asset within the district.
Dr. Chattman was chosen to serve in several areas while teaching including curriculum designer, professional learning facilitator, and director of the after school program. Soon thereafter, she was appointed Assistant Principal of Laurel Ridge Elementary, where she served, thrived, and helped improve the performance of the school for three years. Under her guidance the administration established a culture of inclusion, increased students' performance, and empowered the staff to reach their full potential. Due to the successes that she was able to achieve at Laurel Ridge she was appointed Principal at Evansdale Elementary. At Evansdale she was responsible for 600 students, 81 staff members, and another opportunity to make a substantial impact in the lives of students.
Dr. Chattman alongside her team, was able to transform Evansdale Elementary into one of the highest performing schools in one of the largest school districts in Georgia. Recognizing and celebrating the diversity of the student population, several programs were implemented in order to meet the individual needs of students. She developed one of the first dual-language programs in Georgia, implemented a STEM program, which then led to an AdvancED STEM certification. Dr. Chattman's efforts led to a significant increase on the state report card index and Evansdale became a Title I Reward School as well as becoming the first STEM-French Immersion school in the country.
Dr. Chattman has been a part of the leadership team at the Universal American School of Dubai since 2018 as Elementary Principal. Her accomplishments over the past couple of years were recognized and she has recently been given an additional role of Deputy Director. She is committed to the relentless pursuit of the vision of UAS to become the leading American International school in the region. She believes in the mission of nurturing a community of integrity and academic excellence. She looks forward to facilitating the values of belonging, curiosity, resilience, and empathy. In these coming years, she plans to continue to be a dedicated, strong, and beneficial leader for the UAS community.
Secondary School Principal – Kerry Timmerman
Kerry Timmerman is an experienced educator, having served in a variety of roles and schools over his 20+ years in education. His expertise is in grades 9-12, where he has spent the bulk of his career as a teacher, coach, advisor, Dean of Students, Assistant Principal, and Principal. Before becoming a school administrator, Kerry was a high school social studies teacher, where he taught a wide variety of courses including IB History of the Americas and IB History of Europe at various schools in the USA and UK.
Most recently, he served as the High School Principal at the American International School of Guangzhou, where he spent four years serving the expat community in southern China. Prior to his experience in China, he served as the principal of a high-performing public high school in suburban Minneapolis-St. Paul, Minnesota, USA.
Kerry is a native of Minnesota, USA. He holds a BA in social studies from Hamline University and a Master's degree, K-12 Principal's licensure, and Superintendent endorsement from St. Mary's University.
Kerry and his wife Nelsy, a native of Colombia, have been married for 13 years and are the proud parents of two children – Jakob, age 12, and Addie, age 10. In his spare time, he enjoys playing tennis and golf, reading, cheering on the Minnesota Twins baseball team, and trying (unsuccessfully) to improve his status as the fourth-best Spanish speaker in his family.
Secondary Assistant Principal – Briana Hall
The role of "teacher" fell into her lap, but Briana has since owned it and has been a student cheerleader ever since.
Briana is a native of Alabama and has served in various roles as an educator to support students on the journey to excel academically and personally. In her first four years of teaching in the Conecuh County School system, she worked as the 504 Coordinator at Hillcrest High School and administered homebound services to those students who were physically unable to attend school for extended periods of time.
The next three years, she worked in the Jefferson County School system as the Building Based Student Support Teacher (BBSST) lead, as well as the Junior Varsity and Varsity cheer coach at Minor High School. During this time she also worked in conjunction with Alabama Coastal College Upward Bound to prepare high school students during the summer for their exit exams.
Briana has lived in the UAE for the past eight years. Prior to moving here, she had only lived in the United States and had not traveled abroad. She accepted a job with the Department of Education and Knowledge (ADEK) to teach English in the Cycle 3 girls schools. After five years with ADEK, she decided to make the move to join the English Department at UAS in 2017. She saw an opportunity to expand her leadership abilities and served the next two years as the Dean of Students. In her second year as DOS, she also took on the role of Creativity, Activity, & Service (CAS) Coordinator.
Briana has a Masters in Education from Alabama State University and a Bachelor's of Arts in Communication from the University of South Alabama. She is currently enrolled at Troy University to complete her certification in Instructional Leadership and Administration. She is very excited to continue serving the students, parents and teachers of this community and is thrilled about the upcoming school year!
In her spare time, she likes to operate under the title of "Bri's Kitchen", hosting friends and family for an evening of nibbles and chatter.
Secondary Assistant Principal – Kurtis Trottier
Kurtis Trottier is currently entering his tenth year at UAS and thirteenth year in education here in Dubai.
He comes from Niagara Falls, Ontario, Canada and has previously served as an English teacher in the High School as well as an Athletic Director at UAS. This will be his third year as an assistant principal in the UAS Secondary School. Before joining UAS, Kurtis spent three years teaching English at another international school in Dubai as well as a couple of years teaching English as a second language in Korea.
Kurtis has a Masters in Educational Leadership through the University of Northern Iowa and completed his teacher certification at Edith Cowan University in Perth, Australia and undergraduate Bachelor's of Arts degree at Guelph University in Canada. He is excited for the opportunity to work with the new leadership team at UAS and most importantly, welcoming students back on campus at UAS.
In his spare time, Kurtis enjoys playing basketball and golf, and is joined by his son who is entering KG2 this year.
Innovation and Development Leader – David Jones
David has been an educator for twelve years, gaining experiences through multiple roles and with students from multiple backgrounds.
David started his career in education in a Support Staff role after graduating from Northern Kentucky University with a Bachelor's in Math and Spanish. His love of teaching and supporting student success drove him to return to Northern Kentucky University to pursue a teacher certification.
After two years as a Spanish teacher and three years as a Math teacher, David received a Master's degree for Principalship after others encouraged him to become an administrator. He was promptly hired as an Assistant Principal where David spent three more years, completing a total of nine years at Florence Elementary. Looking for new challenges and continued growth, David accepted a position as Vice Principal at Conner Middle School, a high-performing school of distinction.
David is entering his fourth year as Elementary Assistant Principal of UAS – a school that has become a home to him. Along with Assistant Principal duties, David is a leader for our Distance Learning initiative during Covid-19, our KHDA data analysis team, and our Cloud Campus venture.
David's goal as an educator is to develop an intrinsically motivated desire within each student to succeed at their highest possible level. His objective is to create a safe, collaborative, and innovative building environment where teachers are supported and each student gets instruction tailored to their individual learning styles and needs.
Outside of school duties as an administrator, David enjoys playing sports (especially soccer and basketball), exercising, and going to the beach.
Assistant Principal of Elementary- Rianne Fox
Rianne is entering her tenth year as part of the UAS family.
She was born and raised in Ireland. After graduating with a Bachelor of Arts degree she traveled to Spain and taught English in Madrid. She returned to Ireland and completed a Postgraduate of Education. She taught in Elementary school in Ireland for 4 years. When she was appointed Acting Principal in her previous school she realized that Educational Leadership was the path she wanted to pursue. She made the move to Dubai and joined UAS in 2011. She believes that a school should be a safe, caring and engaging community where children are free to express themselves, blossom and grow. She is passionate about creating active, engaging and personalized learning experiences for each child. Rianne is excited about the continuous growth at UAS and making it the leading international school in Dubai.
Outside of school Rianne and her husband spend most of their time running after their boy Hunter! She enjoys reading, walking (once the weather cools down!) and spending time with family and friends. She is thrilled to take on a new challenge this year and can't wait to build more relationships with the students, parents and teachers at UAS.
Whole School Curriculum Leader and IB Primary Years Programme (PYP) Coordinator – Sabrina Sambola
Sabrina joined UAS in August 2017 as PYP Coordinator and is excited to be entering her fourth year as a Scorpion. Originally from New Orleans, Louisiana, Sabrina completed her Bachelor's Degree at Louisiana State University and received her teaching certification in the state of Texas before going on to earn her Master's Degree from West Virginia University. She spent five years teaching at public schools in Texas and Louisiana before embarking on her journey in international education. Her first destination was Abu Dhabi, where Sabrina joined the American International School in Abu Dhabi (AISA) and developed an appreciation for the PYP philosophy of teaching and learning. While in Abu Dhabi, she taught third grade, physical education, and an early years class focused on learning through play. In her fourth year at AISA, Sabrina joined the school's leadership team as the IB PYP Coordinator. After seven years in Abu Dhabi, Sabrina made her way to Dubai and UAS.
For three years, Sabrina has led with the Elementary School team in developing the PYP here at UAS. She is excited to take on the additional role of Whole School Curriculum Leader for this school year. Sabrina looks forward to working with teachers across the school to build on the curriculum work that has already been done, while focusing on ensuring a rigorous and coherent learning experience for all students at UAS.
Sabrina considers herself a life-long learner and is always eager to explore new ideas and tackle new challenges. She is especially passionate about contemporary approaches to education, innovative learning spaces, and collaboration with colleagues to continuously improve the learning experience of all students. In her personal life, she enjoys family game nights with her husband and two daughters, traveling to new places, enjoying the outdoors (but not during UAE summers!), and simply taking some time to relax.
Sabrina looks forward to welcoming UAS students back into the building and the exciting opportunities that this year will bring.
IB Diploma Programme (IBDP) Coordinator – Tracey Cummins
Tracey is a native of Ireland but calls Dubai home having lived here in the U.A.E. for the past 14 years. Tracey is currently in her 12th year at UAS, serving as the IB Diploma Coordinator. Tracey has had a variety of roles in her time at UAS. Prior to her role as IB Diploma Coordinator, Tracey served as the Head of the Humanities Department where she ensured continued curriculum development, effective teaching and differentiated instruction.
Tracey was introduced to the world of IB at UAS as a teacher of IB Economics, Business Management and Theory of Knowledge. This led to her love of the program and its drive to motivate students to continue inquiry, self-reflection and lifelong learning, beyond school study. This aligns with Tracey's belief that learning needs to make sense and have a purpose for each student and the journey they are on. As the IB Diploma Coordinator Tracey continues to grow the IB Diploma Program at UAS, guiding students in striving to become proactive learners, while celebrating their efforts and accomplishments.
Tracey holds a Bachelor of Arts Degree in Economics and a Higher Diploma in Economics Science from University College Cork, Ireland, a Higher Diploma in Education from University College Dublin, Ireland and a Masters in Education Leadership and Management from OU, Milton Keynes, England.
In her spare time Tracey loves to run, read and spend time with her son Tadhg who attends KG2 and her husband Mark who is the Middle School Counselor at UAS.
Tracey is excited to welcome students back to UAS and continue working with the UAS community in the upcoming academic year.
---
Back