Thank you for considering Universal American School for your child
UAS is an American and International school that provides a challenging curriculum that empowers students to be caring, critical thinking, responsible global citizens. UAS offers the New York State Standards curriculum (NYSS), the IB Primary Years Programme and the IB Diploma Programme, College Board Advanced Placement courses as well as AP Capstone Diploma Program. To supplement our academic program UAS offers a wide range of activities, competitive sports, service-learning opportunities like Al Futtaim Group Internships, and an after-school activities program.
LEAP Programs
We are proud to offer our bespoke learning enrichment after-school program (LEAP). Students from PreK through Grade 6 will benefit from our extended day program with high-quality and personalized activities, for PreK through Grade 6 from 3:10 pm to 6:00 pm, Monday through Thursday.
For younger students at UAS, we provide the option for a full school day of LEAP Program or partial school day LEAP Junior for our PreK and KG1 students. Through LEAP, students will be able to participate in sports and afterschool activities, be supported individually with academics, build relationships, and have fun!
We are an inclusive school
We are proud that UAS is an inclusive school. Our goal is for all new students to successfully transition both academically and socially into our community. Once admitted, students will participate in a variety of assessments to determine the best placement, academic program, and levels of potential support. In addition, we will assist our new families in their transition. We will host parent informational meetings and student orientation meetings for each student within their first months on campus.
We are here to help
We aim to make the Admissions process as smooth as possible for all families wishing to join us. Our friendly and professional Admissions team is here to support you every step of the way. Whether you are looking to join us from a different country or a school in the UAE, we have support and expertise on board to help make your transition effortless.
We look forward to meeting you.
Mrs. Rada Kurban
Registrar
Rada Kurban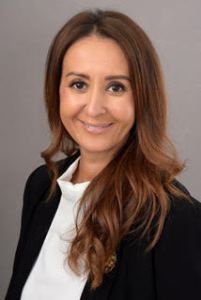 I joined Universal American School as Registrar in 2019. However, I have been privileged to be a proud member of the UAS community since 2009 where I served as a VP for Parent Teacher Organization for two years. My children joined Universal American School in 2009 in KG1 and attend to this day. 
I hold a Bachelor's Degree in Political Science and have been working for multiple international entities like United Nations, Diplomatic Missions, and American NGOs- CARE, Mercy Corps International under the umbrella of United States Agency for International Development. One of the programs I worked for focused on young adolescents from internally displaced populations and refugees. The programs helped to provide them with the necessary schooling, job training, and skills required for the integration into society. We created safe spaces for learning that served as a refuge from difficult and dangerous circumstances.
I am thrilled to be part of UAS Administration team where I witness our incredibly talented students come in every day with the most unique, innovative ideas, determination to succeed, and excel with the true community spirit of integrity and academic excellence. 
I have been living in Dubai since 2005 with my husband and two kids.