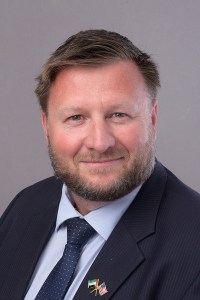 When you step into Universal American School, you will be welcomed by a diverse and inclusive community of caring and curious individuals. From the positive energy in our learning spaces to the wonders of inquisitive discovery sought through critical thinking and agency, you will find that our students are inspired to challenge themselves within a rich academic, artistic, and athletic educational program rooted in the New York State standards and taught through the framework of the International Baccalaureate (IB).
Student agency, voice, and choice are all components of our student-centered approach allowing our Secondary students to make an informed pathway choice either for our IB Diploma, AP Program and our American high school Diploma tracks. Universal American School embraces the very best of research-based American and international educational practices and fosters a culture of excellence. Our academic benchmarks are tailored to meet the aspirations of our international and Emirati student population.
In our vast and well-equipped Dubai Festival City campus, our teachers have always empowered students to become independent, creative, and responsible global citizens since Universal American School opened its doors in 2005. With many years of experience, we have taken an active part in the growth that defines our forward-thinking cosmopolitan host city, Dubai. We as a school are inspired by the pioneering and entrepreneurial Emirati leaders whose bravery has placed the nation on the world stage.
At Universal American School, we follow suit and leap into the future while being rooted firmly in our core legacy. We believe that learning happens anywhere – and at any time! We have harnessed our experiences from a year and a half of successful distance learning, coupled with new learning technologies and digital literacy strategies, to ensure that we provide scope to co-construct and curate flexible and agile learning opportunities across all grade levels.
The power of our internationally-minded, experiential learning environment is enhanced by connecting and valuing the different contributions, skills, and talents of all our community members and strong ties with the Al Futtaim Group.
We aim for our students to lead happy and healthy lives and to thrive in the forward-thinking, collaborative and engaging environment for excellence in learning that we offer. If you haven't already, I invite you to visit us and embark on an exciting journey of purposeful learning together with us.
Sincerely,
Kevin Loft
Director