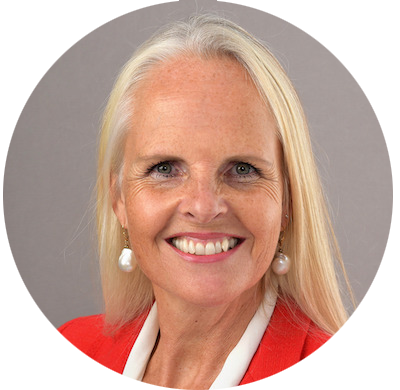 School Director –
Ms.
Janecke Aarnaes
Janecke Aarnaes, mother of two American-Norwegian boys and step-mother of two Sudanese-Norwegian girls, is a global citizen and an international educator with three decades of experience in teaching and leadership.
Having started as a foreign language teacher (French and English), Ms. Aarnaes has worked within the private educational sector, within both national and international schools in Norway, Belgium, and the UAE. She came to Dubai in 2017 to set up and be the Founding Head of Dwight School Dubai, an IB World School with a strong American legacy. Prior to that, she held the position as Head of School at Oslo International School (OIS) in Norway, also a cutting-edge private K-12 co-ed IB World School.
Janecke Aarnaes took up her first director role at the age of 29 and was then the youngest school leader in her country. Including her first seven years as Head of School at Sonans Oslo, she has held a strategic project role as Business Development Manager at the Scandinavian School of Brussels (SSB), where she also served on the Board of Governors. As someone who embraces opportunities that expand her horizon, she stepped out of the field of education for a few years and worked at the EFTA Surveillance Authority in Belgium, a judicial inter-governmental institution tasked with monitoring implementation of EU legislation. Her experience furthermore includes stints with private educational start-ups, such as the Sonans Privatgymnas, a Norwegian high school for adults, where she was the Founding Director, and for performing a demerger at SSB that resulted in the founding of the Norwegian School of Brussels (DNSB).
Ms. Aarnaes is a futurist and serves as a member of the Dubai Future Council on Education, where she takes part in forging paths for the UAE's 2071 strategic vision in areas of learning and knowledge economy. Ms. Aarnaes is a member of the Outstanding Schools Middle East Steering Committee. She is also the Vice-Chair of ECIS (the Educational Collaborative for International Schools), an active participant in the IB World Community, and a trained CIS team visitor.
She holds a post-graduate diploma in Leading Innovation and Change from York St. John's University in the United Kingdom and a bachelor's degree in Sociology and Anthropology, Political Geography, and French from the University of Oslo in Norway. Furthermore, she has studied international relations in Paris and loves languages. She is fluent in English, French, and Norwegian and can additionally communicate in Swedish, Danish, Spanish, Italian, and German.
She is passionate about disrupting traditional educational mindsets, contextualizing learning, and rendering education purposeful for the individual student.